Bring the Voices of the 99% to Israel's Lobby
Occupy AIPAC Mobilization and Summit
Washington, DC
March 2 - 6, 2012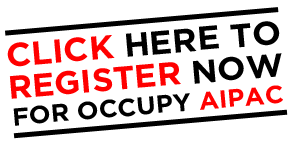 Bring your voice to DC as we take the demands of the #occupy movement to the political elite!
Interfaith Peace-Builders has joined CODEPINK, the Fellowship of Reconciliation, the US Campaign to End the Israeli Occupation, and hundreds of other groups, to organize the Occupy AIPAC Mobilization and Summit on March 2 - 6, 2012.
Timed to coincide with the annual policy conference of Israel's powerful domestic lobbying group - the American-Israel Public Affairs Committee (AIPAC) - the summit will be a long weekend of teach-ins, cultural performances, protests and creative direct actions.
We hope you will agree with us that the voices of the 99% demanding economic justice and those of Palestinian and Israeli peacemakers suffering the effects of US funded war and occupation must be joined together! AIPAC's policy conference routinely draws appearances from top policy-makers and politicians (including President Obama and all major party candidates), and our presence will send a message that taxpayer money should fund domestic needs not war and occupation! And that's just the beginning! Click here for more reasons you should attend!
Check the full schedule of events and register for the summit at www.occupyaipac.org.
IFPB will not hold a Grassroots Advocacy Training and Lobby Day this year (though we hope to do this again). So, if you're interested in an important and similar event, come out for Occupy AIPAC!

Please join us in DC this March!
Your voice is needed now more than ever!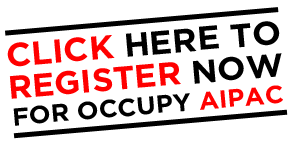 Attend IFPB's unique event at Occupy AIPAC:
Injustice Anywhere is a Threat to Justice Everywhere:
Palestine and the African American Experience

Sunday, March 4
4:00 - 6:00 PM

Mt. Vernon Place United Methodist Church
900 Massachusetts Ave., NW
Washington, DC


This Interfaith Peace-Builders event will feature participants on our 2011 African Heritage Delegation and other top analysts and activists (to be announced). It is open to the public, so invite your DC posse!

Donate here to help us make this event a success!


---
TRAVEL TO ISRAEL/PALESTINE WITH INTERFAITH PEACE-BUILDERS!
Your participation as an eyewitness will enrich your understanding of the conflict and empower your work back in the United States! Click here for information on upcoming delegations.