GRASSROOTS ADVOCACY TRAINING & LOBBY DAY
One Week Left to Schedule Meetings with your Congressional Representatives!
PLUS:
Take Action on Tax Day and New Video
from Grassroots Advocacy Training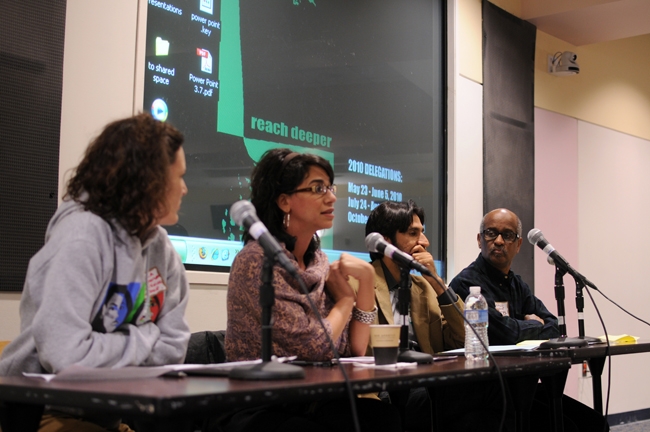 GRASSROOTS ADVOCACY TRAINING
SCHEDULE
PRESENTERS
DOWNLOAD PACKETS AND WORKSHOP MATERIALS
PHOTOS
VIDEO (NEW!)
JOIN THE CONGRESSIONAL DISTRICT COORDINATORS NETWORK
TAKE ACTION: WHAT YOU CAN DO NOW!
On March 30, Palestinians and Israelis marked Land Day with nonviolent demonstrations and other actions. During coordinated protests in the Gaza Strip, four Palestinian youth were shot with live ammunition.
On Palm Sunday (March 28), 15 nonviolent demonstrators were arrested as they walked from Bethlehem to Jerusalem. 10 Palestinians remain in Israeli military prison despite continued protest.
As Palestinians and Israelis step up their nonviolent resistance, people around the world are called to respond in kind.
Nearly one month after the 2010 Grassroots Advocacy Training and Lobby Day, we can join them!

The following are actions you can take in your own community:
Meet with your Representatives During Spring Recess
On March 30, Congress went on Spring Recess, which means that now is the best time to schedule appointments with your Congressional Representatives in your local District Office!
Act now to book a meeting and take our asks directly to the decision makers. Assemble a delegation of concerned constituents and download our Congressional Advocacy Packet with the full lists of asks.
Click here to find contact information for your Representatives' District Offices
Meeting with your representatives during recess is a great way to follow-up from the Grassroots Advocacy Training and Lobby Day on March 7 - 8, 2010. Even if you were not able to attend, you can download materials and view video from the event at the links above!
Organize a Tax Day Action Outside your Local Post Office
If congressional engagement isn't your cup of tea, you can organize an action on Tax Day! On April 15, last-minute tax filers line up at local post offices to get their tax returns in before the deadline, and local newspapers and TV stations often show up to interview people. This is a great opportunity to organize an action outside of your local post office and educate the people waiting in line how their tax dollars are being used.

If you are arranging a Tax Day action or educational event, please post it to the website of the US Campaign to End the Israeli Occupation (select "Tax Day Event"). You can also send us a press release or other details and photos and video from your events afterward so that we can post them to the website.
 

Organize a Viewing Party for Chicago Hearing on U.S. Policy in Israel/Palestine
On Sunday, April 18, the American Friends Service Committee - Chicago will hold a Mock Congressional Hearing on US Policy in Israel/Palestine. The event will feature testimony from Israeli and Palestinian experts such as Jeff Halper and Jad Isaac as well as first-hand testimony from Amr Shurrab and Cindy Corrie. A panel of listeners includes invited staff of Illinois Senate and Representative offices.
You can watch the hearing live online and organize a viewing party to share the event with your friends and neighbors. Unlike many one-time events, taking place in one city, one time - this event may be seen by thousands of people all over the world. This hearing will take place in Chicago, but will be webcast live across the world through the website that was developed just for this event - www.chicagohearing.org
To Register a Viewing Gathering to watch the Hearing LIVE, send an email to:


Mock Congressional Hearing:   Does U.S. Policy on Israel and Palestine Uphold our Values?
An Initiative of the American Friends Service Committee, Chicago

Sunday, April 18, 2010
1:30pm-5:30pm

LIVE in your Living Room or School!

NEW VIDEO and Resources from Grassroots Advocacy Training
NEW VIDEO from the Grassroots Advocacy Training and Lobby Day is now available on our website. New video includes the Keynote Panel "US Policy and the Israeli-Palestinian Conflict: The First Year of an Obama Presidency" and several of the workshops.
Click here to view these videos
Powerpoint presentations from several workshops are also available for download.
Click here to download presentations and other workshop materials
See the menu above for links to photos, video, packets and workshop materials, and more.
This event would not be possible without your support. Please consider making a tax-deductible donation to Interfaith Peace-Builders to continue our important work.
---
DONATE TO SUPPORT INTERFAITH PEACE-BUILDERS
Nothing better prepares activists to work on the conflict than eyewitness experience. Your donation will further the education and engagement of new participants and build a larger, more diverse movement! Click here to donate online.
Donate for Scholarships: There are many enthusiastic people who want to go on a delegation but cannot afford it. Your donation to IFPB's Scholarship Fund will directly assist young people, low income activists, people of color, and interfaith leaders who want to participate in our work. Click here to donate online.


---

TRAVEL TO ISRAEL/PALESTINE WITH INTERFAITH PEACE-BUILDERS!
Your participation as an eyewitness will enrich your understanding of the conflict and empower your work back in the United States!
Click here for information on upcoming delegations.
---

Grassroots Advocacy Training and Lobby Day sponsored by:
Interfaith Peace-Builders and the US Campaign to End the Israeli Occupation
Endorsed by:
The American-Arab Anti-Discrimination Committee, The American Friends Service Committee - Chicago, CODEPINK: Women for Peace, the Fellowship of Reconciliation, Holy Land Trust, the Islamic Circle of North America, ICNA Council for Social Justice, the Israeli Committee Against House Demolitions - USA, Jewish Voice for Peace, the Middle East Research and Information Project, the Muslim American Society Freedom Foundation, Progressive Democrats of America, the Washington Peace Center.