AN HONEST BROKER?
the us role in the israeli-palestinian conflict
Interfaith Peace-Builders Delegation Arrives in Israel/Palestine

Reports and Photos from IFPB's 46th Delegation (May - June 2013):

Delegation 46 Announcement
Report 1: Jerusalem -  Into the Heart of the Conflict
Report 2: "This Struggle is Necessary"
Report 3: "Tell America . . ."
Report 4: The Good and The Bad
Report 5: Like the Water
Report 6: Departing the Dystopia (Final Thoughts)

Delegation Video


May 27, 2013 - Interfaith Peace-Builders (IFPB), in partnership with Central Presbyterian Church of Atlanta and Joining Hands for Justice in Israel and Palestine, is pleased to announce that our 33 member delegation to Israel/Palestine arrived at Ben-Gurion airport Monday morning and is now safely in Jerusalem.
The purpose of this delegation, the 46th organized by Interfaith Peace-Builders since 2001, is to educate North Americans about the region and deepen their understanding of its conflicts.
The delegation arrives days after US Secretary of State John Kerry visited the region, ostensibly to promote a return to formal peace talks between the Israeli government and representatives of the Palestinian Liberation Organization (PLO).  Kerry has said that the next 18 to 24 months are crucial for a breakthrough in peace talks. 
Throughout President Obama's administration, the US-brokered peace process has shown few results and US military aid to the region continues to flow unabated.  The President's 2014 budget request currently in front of Congress includes $3.1 billion in military aid to Israel and an additional $316 million for joint US-Israeli anti-missile systems.  Additional reports indicate that the administration is opening negotiations to give Israel up to $40 billion in US taxpayer-financed weapons through 2028.
Participants on this delegation have the unique opportunity to hear directly from Palestinians and Israelis regarding the effects of Secretary Kerry's visit and the role of the United States in the pursuit of a just peace.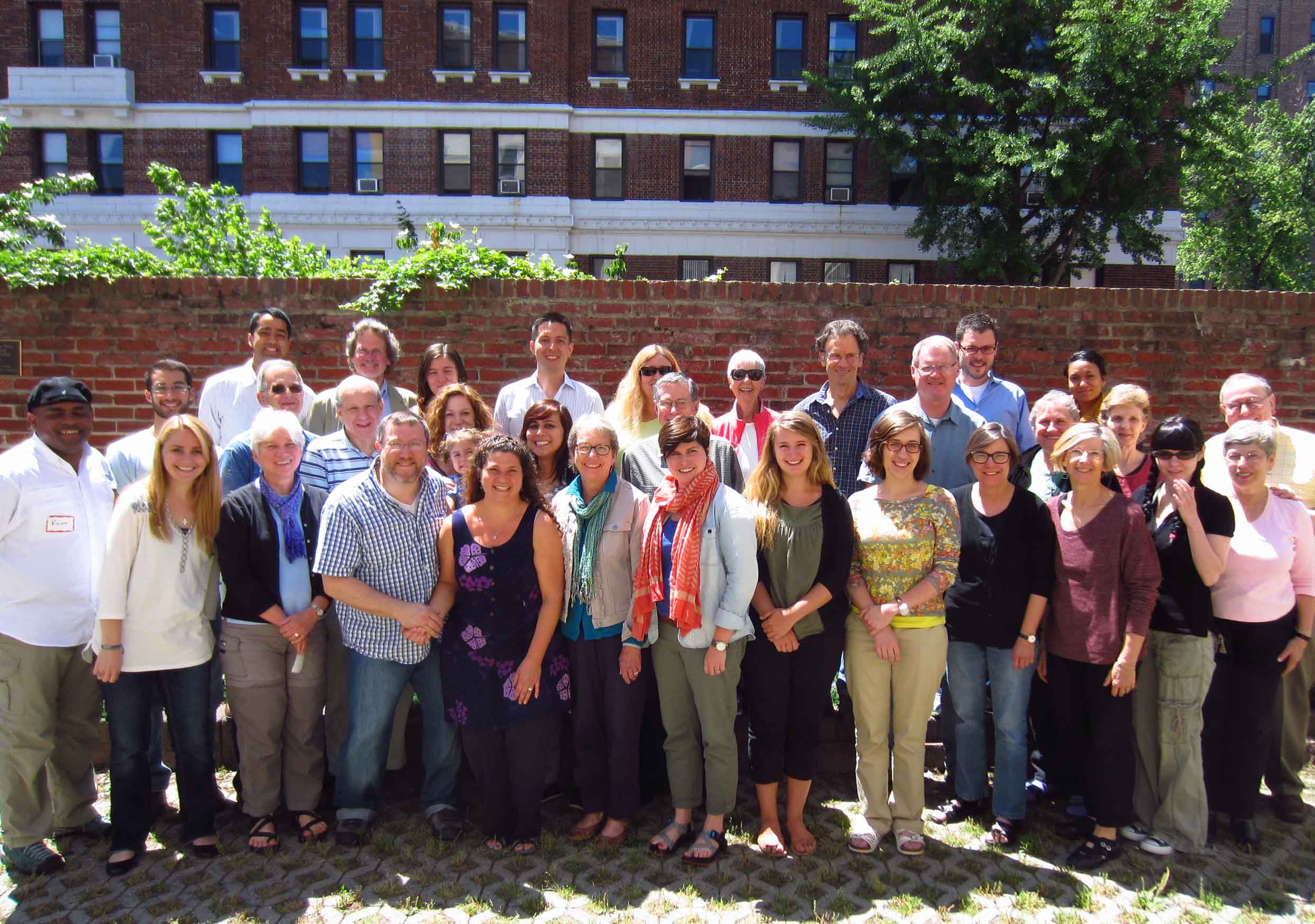 A photo of the delegates at orientation in Washington, DC


The delegation includes the following people:
In addition to the reports linked from this page, IFPB delegation participants may be blogging and tweeting about their experiences. Like the trip reports posted here, individual blogs and tweets reflect the views of delegation participants only, and not necessarily Interfaith Peace-Builders or partners.
Blogs by delegation members:
• Group Blog by Members of Central Presbyterian Church in Atlanta
• Ralph Watkins' Blog

Twitter streams by delegation members:
• Krista Brewer on twitter
• Noura Erakat on twitter
• Jonathan Flack on twitter
• Nabill Idrisi on twitter
• Leslie Leonard on twitter
• Josh Ruebner on twitter
• Ralph Watkins on twitter
Follow IFPB on twitter @IFPBdelegations
Shelly Altman & Susan Bramhall - New Haven, Connecticut
Bobbie Wrenn Banks & David Root - Decatur, Georgia
Krista Brewer and David Flack - Atlanta, Georgia
Ev Brookbank - Greenacres, Washington
Nuala Cabral - Philadelphia, Pennsylvania
Jennifer Calvert - Spokane Valley, Washington
Mary Caponi - Des Moines, Iowa
Ilise Cohen & Dan Rice - Decatur, Georgia
Noura Erakat - Fairfax, Virginia
Jonathan Flack - Atlanta, Georgia
Nicole Hale - Peoria, Arizona
Larry Hendel - Berkeley, California
Sarah Humphrey - Tucker, Georgia
Ann and Rodney Hunter - Decatur, Georgia
Nabill Idrisi - Sunnyside, New York
Susan Landrum - Atlanta, Georgia
Tori Lang - Newnan, Georgia
Leslie Leonard - Atlanta, Georgia
Clarissa O'Conor - Lititz, Pennsylvania
Mark Pirazzini - Eau Claire, Wisconsin
Alison & David Rice - Fresh Meadows, New York
Josh Ruebner - Arlington, Virginia
Stephanie Simpson - Washington, DC
Kate Taber - Atlanta, Georgia
Ralph Watkins - Atlanta, Georgia
Taylor Weech - Spokane, Washington

Interfaith Peace-Builders believes in the power of eye-witness experience and transformation. Given the opportunity to speak directly with Israelis and Palestinians, delegates return to the United States better informed, more energized, and with a deeper understanding of the possibilities for true justice in the Middle East.
Upon their return to the United States, delegates will share their experiences with the public, the media, and their political representatives.
Media interested in interviewing the participants when they return, and groups wanting information about speaking engagements, should contact Interfaith Peace-Builders at or 415.240.4607.



| | |
| --- | --- |
| Select a report to view: | Announcement | 1 | 2 | 3 | 4 | 5 | 6 | |